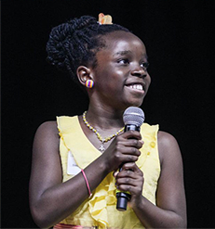 Mikaila Ulmer (meandthebees.com)
You heard the adage when you get a lemon make lemonade. That is exactly what Mikaila Ulmer from Austin, Texas did and this witty, pint size speaker is an inspiring entrepreneur. Savvy, smart and very intuitive are all titles well-deserved for this successful kidpreneur. 
Formerly known as Bee Sweet Lemonade this young boss is now rebranding the business as Me and the Bees. She supports local honey businesses as well as advocates on behalf of saving honeybees. 
What spark the fire in Mikaila was her grandmother's recipe book. That was the key  to launching a profitable enterprise. She pitched her idea (not an easy task) on Shark Tank and won over investor and mentor Daymond John convincing him to put up 60K for 25% stake of her business.
In The Beginning….her family encouraged her at the age of four to enter a business competition (the Acton Children's Business Fair) and the rest is history. Whole Foods will place her products across fours states and 55 locations after Mikaila signed an $11 million deal. This is pretty impressive for a sixth grader. 
What makes her recipe so special is the elimination of processed sugars and she uses, flaxseed, mint  and local honey as it sweetner all infused into the lemonade. We can learn some valuable lessons from this clever kidpreneur and we can say she (Mikaila) and the bees landed the sweetest deal!