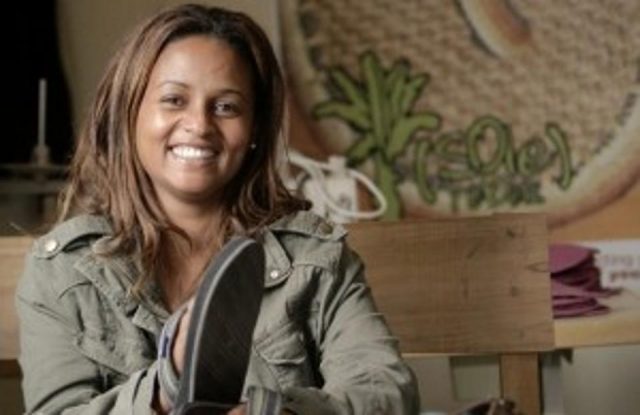 Bethlehem Tilahun Alemu (Source: Tadias.com)
Bethlehem Tilahun Alemu is an Ethiopian born CEO and Founder of SoleRebels. She promotes entrepreneurship and creates jobs. SoleRebels is her million dollar company with hand-crafted sandals, slip-ons and lace-up shoes all made from recycled tires and organic fabrics.
The wearing of recycled tires is a tradition wore by Ethiopians for years. Bethlehem knows how to turn a long wore tradition into a profitable and practical eco-sensitive footwear brand.  She is known as one of Africa's most successful women entrepreneur. SoleRebels in her homeland could be comparable to Nike, Adidas and Reebok.  
Humble beginnings, Bethlehem was born in a rural impoverished community in Addis-Ababa, Ethiopia. At a very young age she was intuitive and she realized how few jobs were available in her community. Utilizing the artistically-gifted members of her community Bethlehem was able to start a business by obtaining funding from her husband and family. The production process for the shoes includes zero carbon production and are very eco-sensitive.
SoleRebels brands are sold around the world and currently in over 30 countries. The price range for the shoes are $20 to $100 and you can get them at Amazon and Endless, as well as their own website http://solerebels.com.  It is noted that most African entrepreneurs will not divulge their revenue and it is speculated annual revenues is at least $1 million and one report states her 2016 earnings was expected to  exceed $10 million. 
Building an international footwear brand in Ethiopia is Bethehem's dream. The SoleRebels brand has extended to retail outlets in Taiwan with franchise proposals for Italy, Australia, Israel, Spain, Japan and the United States.