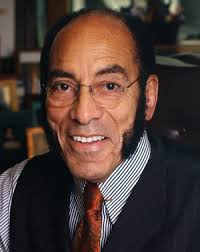 This  post will barely touch the surface of the many accomplishments and accolades of Mr. Earl G. Graves Sr. We can summarized his legacy and life lessons by saying he is a family man and entrepreneur. He had a humble beginning, with a strong resolve and determination which translated into a successful notable businessman!
He has left his forever footprint in the Hall of Fame for powerful and profitable Black Entrepreneurs.  He authored a book titled How to Succeed in Business Without Being White, in which he talks about his strategies for success. He understands the importance of building a business which will leave a legacy, stimulate our economy and sustain his        (Blackenterprise.co family for many generations to come. We thank Mr. Graves  for being a Great American for serving our country. His media and publication companies continues to provide knowledge and insight on the risk and rewards of being a Black Entrepreneur.
Shortlist of Earl G. Graves Sr. Accomplishments:
Founder and publisher of

Black Enterprise

magazine and a nationally recognized authority on black business development.

Previously chairman and CEO of Pepsi-Cola of Washington, D.C., L.P., the largest minority-controlled Pepsi-Cola franchise in the United States.

Graves is a staunch advocate of higher education, supporter of entrepreneurial education and equal opportunity.

Black Enterprise magazine sales are constantly increasing and remains profitable since its 10th issue.  

Graves was an administrative assistant to the late Senator Robert F. Kennedy from 1965 to 1968.

Graves is an ROTC graduate. He attended Airborne School, Ranger School and finished his Army career (in the rank of Captain) as a member of the 19th Special Forces Group, the Green Berets. He received a U.S. Army Commendation Award.

The President of the United States (1972) named Graves one of the 10 most outstanding minority businessmen in the country and he received the National Award of Excellence in recognition of his achievements in minority business enterprise.

Time Magazine (1974) named Graves one of 200 future leaders of the country and he was also listed in

Who's Who in America.

Morgan State University (1995) renamed its business and management school the Earl G. Graves School of Business and Management. He donated $1 million dollars to the Morgan State University.  

Fortune

magazine (2002) named Graves one of the 50 most powerful and influential African Americans in corporate America.

Graves (January 2006)  named his eldest son, Earl "Butch" Graves, the company's new chief executive officer (formal title President and CEO). The promotion of Graves Jr. to CEO represents the transition of Earl G. Graves Ltd. to the next generation of leadership. Graves was inducted into the U.S. Business Hall of Fame (2007) and he is currently a director of Aetna Inc. Graves was born in  Brooklyn, New York. Mr. and the late Mrs. Graves have three sons, all successful professionals who work in the family's businesses.
(Source: www.blackenterprise.com)